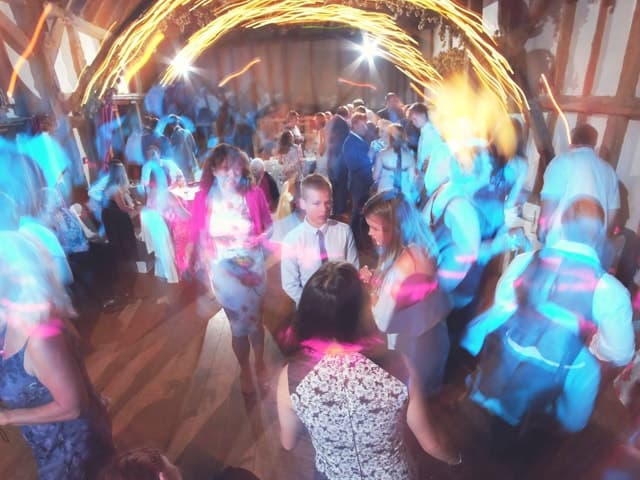 A Wedding With WOW Factor
Your wedding is one of the biggest days of your life, and rightly so.  Who wouldn't want a wedding with wow factor? You have a massive list of services you want to hire in, from caterers to venues, dresses to DJ's, you naturally want it all to be perfect.  To help you plan the most perfect day, lets look at some of the factors you would expect from a local Oxford wedding DJ.
Sadly many DJ's offer nothing more than a very expensive music playing service, which might serve the purpose but does nothing to add to the overall experience.  Incandescence takes wedding entertainment in Oxford and the surrounding areas to a whole new level.  We know there is more to a DJ than just rocking up and playing some tunes.
How to start creating a wedding with WOW factor for yourself.
Set the Mood
You want your guests to be blown away, we get that.  You want people to literally walk in saying 'wow' when they see your venue.  To help create that awesome first impression, and provide a really stunning location for the whole reception we add mood lighting.  This is a fluid set up that can transform from a sophisticated daytime sit down meal, to a glamorous evening setting that makes a real statement.  It is often not something people associate with a wedding DJ in Oxford, but something we believe really matters.  This can be taken a step further with a beautifully lit dance floor, in black, white or parquet, with a choice of sparkling or static lights.  Your dreams of a princess moment are right there for you as you head to the floor for that memorable first dance.
See Your Name in Lights
Names, initials, dates, hearts or flowers, the choice is of course yours, but to bring an extra touch of magic to the venue, we can arrange to have some awesome projections onto the floor or wall.  In an extra special gesture we will have this etched into a glass disc for you to keep forever, and every time the light catches it you will be momentarily transported back to the wonderful day.
Make Yourself Heard
Another service we found lacking from the big day arrangements was a good PA system.  Whether you are looking to capture the vows or record the speeches, it can all be taken care of for you.  Our discreet PA system combines seamlessly with lapel microphones, and we can even make the audio recordings too.  Speeches often pass in a whirl as you are so overwhelmed by the whole day, so having this wonderful keepsake means you can listen anytime.
A Choice of Music
Of course no wedding party, or wedding DJ would be complete without the all important tunes.  A catalogue over over 15,000 should definitely make sure you can host the party of your dreams with that all important wow factor, but should there be a special tune we do not already have, rest assured we will get it for you. We can even host some participation games to entertain the children early on, and engage the adults as the night goes on.
Whatever you want from your dream day, we believe you should have.  Creating a wedding with wow factor, when you find the right people to work with, is easier than you might think. Incandescence will be there to take care of your Oxford wedding DJ needs, and we are confident we can exceed your expectations.